A SUSTAINABLE SWITCH!
It's time to make a simple switch to a bamboo alternative. Good for the planet and great for your family!
#prettysustainable
NEW! Bamboo Straw Cup
Our new bamboo and silicone straw cup is a great second stage cup for a toddler or young child who has learnt to drink from a cup but loves a straw! Made of organic tableware bamboo, which is 100% biodegradable, naturally grown and harvested. The silicone straw feeder is non toxic, free of BPA, melamine phthlates and lead.This cute straw cup is spill proof but not leak proof. This means if someone knocks it over, the liquid will be largely contained.
Shop Now
We have answered your call for a funky & eco-friendly bamboo toothbrush.
Every year in Australia, we throw away over 30 million plastic toothbrushes that never get recycled. Sadly these end up in landfill, the ocean or our forests. Toothbrushes, along with plastic water bottles are the most wide spread plastic items contributing to polluting the earth and posing risk to marine life. 
If you're looking to make the 'eco swap' when it comes to cleaning your teeth, then you have found yourself in the right place.
Bamboo has increased in popularity across the world because of it amazing versatility. It's the fastest growing land plant in the world, renewable and biodegradable.
Making the sustainable switch to a bamboo toothbrush couldn't be easier, but it really will help save our beautiful planet.
Bamboo can single-handedly help reduce the amount of plastic that finds it's way to our forests and oceans.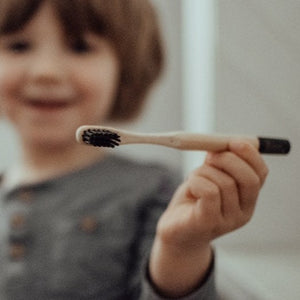 WHY DENTISTS INSIST ON A 12 WEEK SWITCHEROO
Are you guilty of clinging to your toothbrush like it's a childhood teddy bear? You're not alone! Many of us get attached to our toothbrushes and only part ways when the bristles look more like the Amazon rainforest than a dental tool. But guess what? Dentists have a good reason for that regular toothbrush swap meet. In fact, they insist that you should change your toothbrush every 12 weeks. Let's dive into the toothbrush tango and find out why.
TELL ME MORE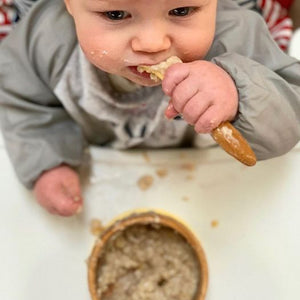 BABY LED WEANING-HOW TO MAKE IT EASIER
Let's talk baby led weening! As a mum of 3, I can 100% advocate for it! After making purées and assorted baby meals for my first two, it was a welcome change to just pull up the high chair at family meal times and give my youngest a deconstructed version of our meal (always ensuring they were soft and safe sizes for little hands and mouths). Yes it was messy, but he was exposed to so much more variety and mealtime was much less stressful.
TELL ME MORE...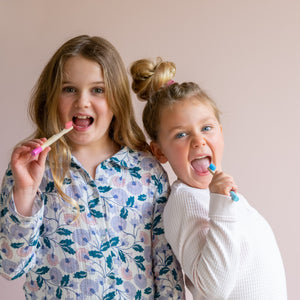 5 SUSTAINABLE & ECO FRIENDLY FUNDRAISING IDEAS
Are you looking for Eco-friendly and sustainable fundraising ideas for your kindergarten or school?
Having three kids go through kinder and now at school, I often feel a little scabby when I didn't participate in many of the fundraisers coming home. Fundraising for kindergarten and schools doesn't have to be all pies and chocolates. I believe a truly sustainable fundraiser is one that promotes products that are not only kind to the planet but kind to family's wallets!
TELL ME MORE
Testimonials
Great toothbrushes! With the different colours all the kids know who's brush is who's. The coloured bottoms also seem to stop the handles going all gross and manky like other bamboo toothbrushes we've had. 10/10



Andy
We have just converted to bamboo and the colours are enticing enough for my 3 year old to part with her colourful plastic ones. Thanks so much. I'll be back for more when needed!

Zelma
As an infant and child nutritionist, I love a plate that doesn't have separators and will only purchase these for my little one. As a Mum, I love that these sets have such incredible suction- I genuinely struggle to get the plate/bowl off the highchair tray!

Aimee
Fabulous product and service

My kids loved these! A great product and fantastic service. I ordered and received them the next day!

Megan
Great toothbrushes. Gentle on the gums.

Bridgey
These toothbrushes are great, our whole family use them and love them.

Emma
Love these

Love these toothbrushes we've got the whole family onto them!

Chris